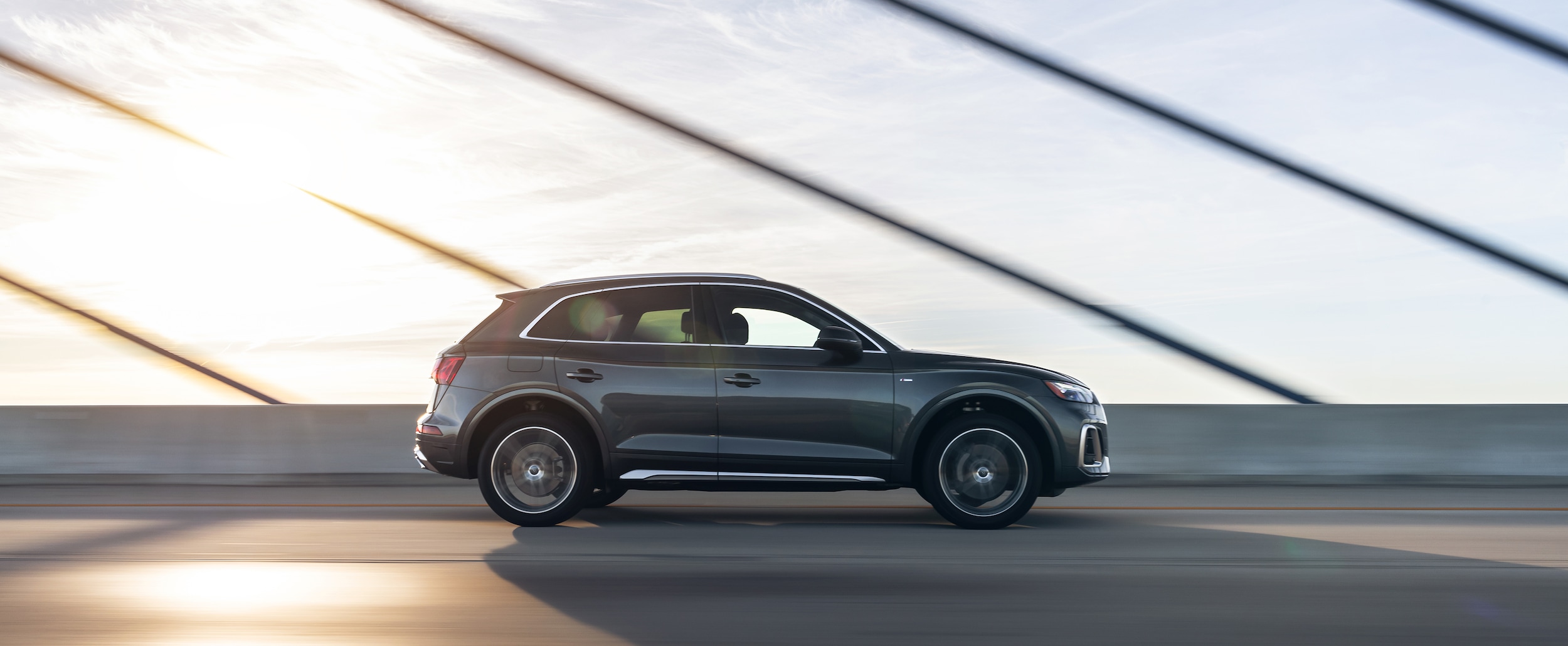 Want the Finest in Luxury and Performance? A New Audi Q5 is the Choice for You
The Audi Q5 is a sporty SUV that offers drivers of all types the ultimate driving experience in the Harrisburg area. Its sleek body design unites the Audi design language with the renowned Quattro system, providing an aggressive, yet elegant presence. The new Audi SUV's sophisticated interior features numerous high-quality materials and modern technological advancements. Come over to Audi Mechanicsburg in Mechanicsburg, PA today and we are going to be ready to offer you the chance to get an outstanding SUV that you are always going to love.

A Top-Notch Design Brings the Audi Q5 to the Top-of-the Class
This vehicle's appearance is a perfect combination athletic and elegance with a carefully sculpted body that is going to be ready to handle the roads ahead. The sophisticated body of the new Audi Q5 is equipped with LED headlight technology that provides perfect illumination at night. The grille is enlarged to give a bolder presence, and the large gold badge on the hood gives it an elegant look. The LED brake lights are integrated into the vehicle's rear big strip bar to deliver an even more sleek look for this SUV.
The headlights on the Audi Q5 are a prominent part of the exterior design, as they are standard LEDs with an LED Matrix Beam that turns on and off, depending on the steering angle as you drive in the streets of around Hershey.
Step into Luxury with the New Audi Q5
The interior features high-quality materials and modern technologies, giving it a luxuriously refined feel. The instrument panel is clean and straightforward with Audi Digital Cockpit giving you all of your information right in front of your eyes. On the dash a bright and bold 10.1-inch screen houses all of the various operations of the Audi Q5. The leather seats are fitted with four-way lumbar support to provide comfort, and they can also come with built-in massage, heating, and ventilation functions. The rear seats feature 40-20-40 split-folding capability so that passengers can enjoy spacious seating arrangements, depending on their needs.
You'll get the Bang & Olufsen® system with 19 speakers and 755 watts of power if you get the comfort and sound package. Also, it comes integrated with Alexa voice control, allowing the driver to control various functions of the vehicle through voice command.
Performance That Will Bring You the On-Road Excitement You Dream Of
When you decide that a new Audi Q5 could be the perfect luxury SUV for you and your adventures, you are going to love that these is a choice of two powertrains that can easily and confidently make your every drive more enjoyable. Firstly, the new 2.0L turbocharged four-cylinder engine will create 261 horsepower and 273 lb.-ft. of torque. The second option available to drivers from all over the Hanover, PA and York, PA area is the same engine, but is combined with an electric motor to crank up the power to 362 horsepower and 369 lb.-ft. of torque! In either option, you are going to love the inclusion of a smooth-shifting seven-speed dual-clutch automatic transmission. Furthermore, the inclusion of the available all-wheel drive system will give you the capability to handle any road going forward.
A Bevy of Safety Technology for Your Enjoyment
Drivers will be impressed by its dynamic handling and athletic capabilities. In addition, Audi Q5 is equipped with numerous safety features to ensure a safe driving experience for all passengers. The standard equipment includes four airbags, electronic stabilization control, and traction assistance systems to prevent skidding.
Driver-assist systems include blind-spot monitoring, adaptive cruise control with stop & go functionality, and parking sensors controlled through the sound system or Alexa voice control.
So, whether you are driving in rough terrain or during the rainy season around Harrisburg, the new Audi Q5 offers you an efficient and versatile alternative to provide reliable transportation for you and your loved ones.
Overall, the new Audi Q5 is an impressive new Audi SUV that offers drivers the ultimate driving experience. The combination of luxury and performance is sure to impress all vehicle lovers while remaining within their price range.
One of these days, visit us here at Audi Mechanicsburg for a test ride, and we assure you that once you get behind the wheel of the Audi Q5, you will be amazed by its agile handling and powerful performance. More importantly, for your shopping enjoyment, our entire selection of new Audi models and the vast selection of new Audi SUVs will be here for you to enjoy! See you soon!